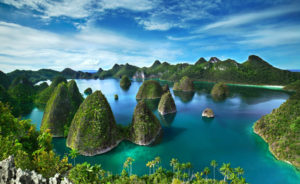 Raja Ampat an area located in the western part of Indonesia, precisely in the bird head of the island of Papua, West Papua. This area has an area of ​​approximately 4.5 million hectares with nearly 85% of the oceans, and the remainder consisting of islands with the amount totaling over 600 islands. Of the islands, there are four islands which is the largest island, Misool Island, Salawati Island, Batanta Island and Waigon Island. But of the many islands that only approximately 35 islands are inhabited, and the rest are uninhabited islands. Until now, only 400 islands that have been explored, the rest is still not at all been touched by humans.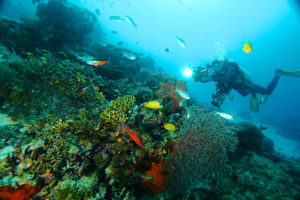 Raja Ampat archipelago into one world-class travel for this very famous tourist spot with its beauty both in Indonesia and in the world. Already many local and even foreign travelers were very happy to come here. In addition to an interesting panorama, there are also some advantages sights archipelago in West Papua, Indonesia.
Raja Ampat is a series of islands adjacent to each other, rather there are 4 islands. This archipelago is included in Raja Ampat, West Papua, Indonesia. The place is a tourist destination, especially for those who love diving because there are several interesting diving spots, namely in the fourth largest island which has been mentioned previously, Misool Island, Salawati Island, Waigeo Island, Batanta Island.
Raja Ampat most communities have a livelihood as fishermen who inhabited small villages and live far apart, even on different islands. People are very friendly when receiving guests from outside Raja Ampat. With the hospitality of the people, we will not feel alienated as tourists. Comfort and familiarity between people will feel if we could blend with it while enjoying the tourist.
 It's very interesting for tourists who love water adventure Attractions, namely snorkeling and diving. Raja Ampat has a great tourism potential for this. and is recognized as one of the dive sites of the 10 best dive sites in the world. Flora and fauna as very natural and complete. By region the best and most beautiful reefs in Indonesia, may be one of the best in the world.
Raja Ampat has a beach with open seas with a cluster of small islands located in the vicinity of this beach, making it suitable for diving or snorkeling with diverse panorama of coral reefs were still awake and natural beauty. These waters save at least there are 1,000 species of hard coral fish, 540 types of hard coral and 700 species of molluscs. So 75% of coral species in the world are in the waters of Raja Ampat, and no waters with coral broadly similar amounts as in Raja Ampat. Some species can we find here, is the manta rays, sea horses dwarf, and wobegong.
For those who do not like diving or snorkeling, there are also tours that are not less interesting: Birdwatching paradise; hike Wayag (cluster karst); photography for a hobby; Papua hunting handicrafts and souvenirs. Before returning to their respective areas, in Sorong there are rolls of shredded very delicious taste. With a large size (diameter 10 cm) and abonnya abundant. One serving is only Rp 10,000, – the price, and can be purchased along the way to Domine Eduard Osok.