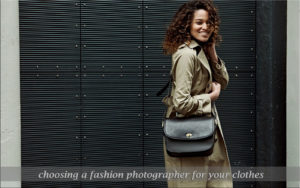 With the rising competition in the industry, whether you are running a cloth business or any other ecommerce store, you will need a professional fashion photographer who can capture eye-catching images of your products. Before you choose one, here are some tips that that help you pick a fashion photographer that's a right fit for your business:
Photography has moments of joy and hardship. Fortunately, difficult times are most common ones photographers have to deal with. So, the fashion photographer you choose should have the fortitude and the ability to take challenges. After all, it is the difficult times that give you the opportunity to learn.
The fashion photographer should be ready for hustle. He needs to be proactive and he should be staying on the top of the minds of people. He must be the kind of person who is willing to spend time to nurture his clients.
The photographer must focus on tiny details on your products since a perfect picture has even the tiniest details captured.  Professionals never ignore the importance of attention to detail.
Must have an outgoing personality
The photographer must have an outgoing personality. A positive attitude will help him expand his network and experience career growth. That's the kind of person you should be looking for.
A good photographer knows how to practice patience. He must be willing to invest his time to capture the product in its best angle.
He makes the model comfortable
A professional photographer knows that the expressions of the model play a significant role in fashion photography and so he will create a comfortable environment for the model. He must not hesitate in having a few words with the model before starting the shoot.  He …
Tips When Choosing a Fashion Photographer For Your Clothes

Read More >>>