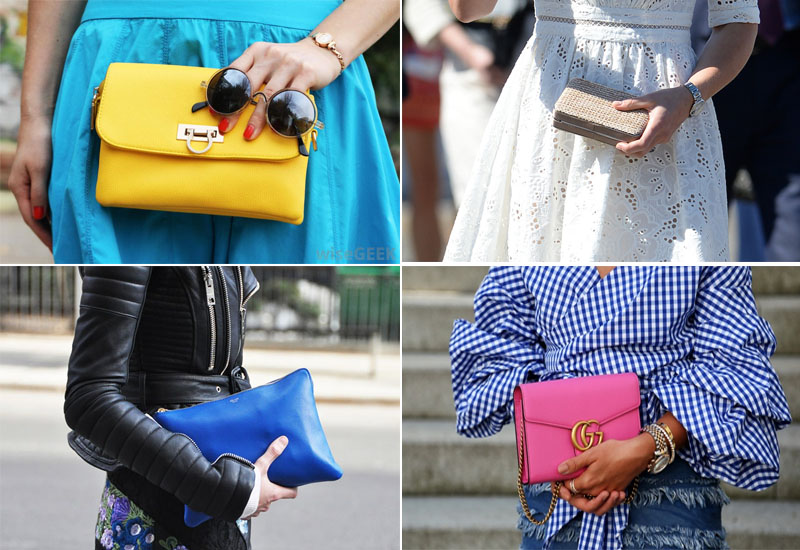 A clutch bag is a bag without handles, carried as an evening bag and sometimes, if the style permits, carried and used as a day bag. Clutch bags are designed for holding in your hands, but some clutches are made with detachable chains or straps for carrying on your shoulder like a regular shoulder bag.
While clutches may, at first, seem impractical, some styles are quite useful. Large clutches can carry just as much as a large shoulder bag and small clutch purses are perfect for a night out, carrying only as much as you need so you are not saddled with an overly big bag and with an emphasis on you and what you are wearing rather than the big albatross over your shoulder and the tons of items you are presumably carrying. Clutches come in a wide variety of styles, colors, and sizes, with solid colors and prints (themes like animals, plants, landscapes, sports bags, etc.
Designer clutches come in a variety of styles. Prada currently carries a line of clutch purses made from Nappa leather and priced between $800 to $1500. Gucci also carries a line of clutches, elegant and sleek, with the signature GG ornament on the opening and in leather as well. Clutch purses can also be found in a convertible style, with the clutch that converts to both a tote and a shoulder bag. Now that is convenient!
So while these bags are still very popular, find the style that works for you. There are so many to choose from, and in so many price ranges, you will certainly find the one you want for the price that is right.…
Clutch Bags – Carry On With Style

Read More >>>