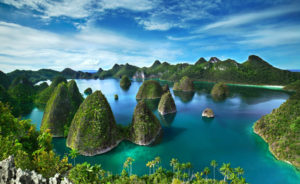 Raja Ampat an area located in the western part of Indonesia, precisely in the bird head of the island of Papua, West Papua. This area has an area of ​​approximately 4.5 million hectares with nearly 85% of the oceans, and the remainder consisting of islands with the amount totaling over 600 islands. Of the islands, there are four islands which is the largest island, Misool Island, Salawati Island, Batanta Island and Waigon Island. But of the many islands that only approximately 35 islands are inhabited, and the rest are uninhabited islands. Until now, only 400 islands that have been explored, the rest is still not at all been touched by humans.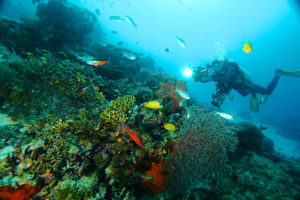 Raja Ampat archipelago into one world-class travel for this very famous tourist spot with its beauty both in Indonesia and in the world. Already many local and even foreign travelers were very happy to come here. In addition to an interesting panorama, there are also some advantages sights archipelago in West Papua, Indonesia.
Raja Ampat is a series of islands adjacent to each other, rather there are 4 islands. This archipelago is included in Raja Ampat, West Papua, Indonesia. The place is a tourist destination, especially for those who love diving because there are several interesting diving spots, namely in the fourth largest island which has been mentioned previously, Misool Island, Salawati Island, Waigeo Island, Batanta Island.
Raja Ampat most communities have a livelihood as fishermen who inhabited small villages and live far apart, even on different islands. People are very friendly when receiving guests from outside Raja Ampat. With the hospitality of the people, we will not feel alienated as tourists. Comfort and familiarity between people will feel if we could blend with it while enjoying the tourist.
 It's very interesting for tourists who love water adventure Attractions, …